Sakit Gigi
Penjelasan 
Sakit gigi atau nyeri gigi (gingivitis) adalah rasa nyeri yang dirasakan di dalam atau di sekitar gigi. Rasa nyeri gigi dapat menandakan adanya masalah di gigi atau gusi dan adanya masalah di bagian tubuh lainnya, sakit gigi dapat disebabkan karena bakteri atau masalah pada saraf di akar gigi atau kondisi iritasi di sekitar gigi (seperti tumbuh gigi, gusi bengkak, gigi berlubang, abses gigi (adanya nanah di dasar gigi), gigi retak atau patah, tambalan gigi lama yang rusak). Intensitas nyeri yang ditimbulkan dapat berkisar dari ringan hingga parah, dimana penderita dapat merasakan nyeri tajam yang terjadi secara terus menerus atau hilang timbul tidak menentu. 
Rasa sakit pada gusi dan gigi dapat menyebabkan seseorang menjadi sensitif terhadap makanan manis dan suhu panas atau dingin, dimana rasa nyeri tersebut terkadang berasal dari daerah lain yang menyebar ke rahang. Daerah rahang dan gusi yang berdekatan dengan gigi yang terinfeksi juga akan mengalami pembengkakan sehingga penderita akan kesusahan untuk membuka mulut lebar-lebar dan proses menggigit serta mengunyah makanan akan menjadi sulit dilakukan. Gejala sakit gigi juga sering disertai dengan pusing, demam, sakit telinga, sakit leher, dan bau mulut.  
Sakit gigi biasanya tidak mengancam jiwa, tetapi dalam beberapa kasus dapat menjadi tanda kondisi serius yang memerlukan perawatan medis segera. Sakit gigi dapat dicegah dengan menjaga gigi dan gusi tetap sehat.
Prevalensi masalah gigi dan mulut di Indonesia masih sangat besar. Berdasarkan Riset Kesehatan Dasar (Riskesdas) 2018, orang Indonesia yang memiliki masalah gigi dan mulut sebanyak 57,6% dan anak-anak sebanyak 93%.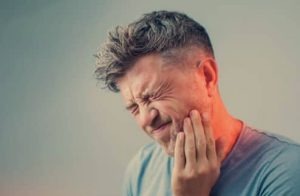 Pemicu
Sakit gigi terjadi karena adanya peradangan pada bagian tengah gigi (pulpa), pulpa berisi ujung saraf yang sangat sensitif terhadap rasa sakit. Peradangan dipicu oleh kerusakan gigi (seperti gigi berlubang, trauma, dan infeksi), dimana rasa sakit yang ditimbulkan dari rahang dapat memicu gejala sakit gigi. Beberapa penyakit yang juga dapat memicu sakit gigi, diantaranya:
Sinusitis
Sinusitis adalah suatu kondisi di mana sinus meradang akibat infeksi virus, bakteri, atau jamur di rongga sinus. Akar gigi atas terletak di dekat sinus, sehingga dapat menyebabkan nyeri pada gigi atas.
Trigeminal neuralgia and occipital neuralgia 
Painful neurological condition that causes the trigeminal and occipital nerves to be irritated or inflamed. These nerves work in the area of ​​the skull, face, and teeth, so that when a toothache becomes inflamed, it can feel like it is coming from the tooth.
Heart disease and lung cancer
In some cases, toothache may be a warning sign of a heart attack. Heart and lung disease that can trigger toothache due to the location of the vagus nerve, this nerve flows from the brain to various organs in the body (including the heart, lungs and jaw).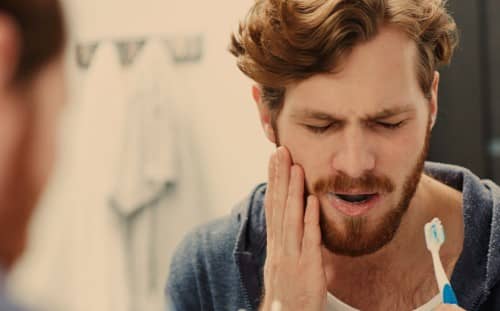 Symptoms 
Toothache can range from mild to severe, and can be constant (continuous) or intermittent (intermittent or disappear and come on). The pain can last more than 15 seconds after the stimulus (hot or cold stimuli) is removed. When the area of ​​inflammation enlarges, the pain will get worse and spread to the cheeks, ears, or jaw. Symptoms that the sufferer may feel include:
Dizzy

Fever

Bad breath

Neck pain

Earache

Swelling around the teeth or jaw

Injury or trauma to the area of ​​the teeth, jaw and gums

Bleeding or discharge around the teeth or gums

Increased sensitivity to hot or cold temperatures

Pain in or around the teeth or gums, especially when chewing, biting and touching teeth.
Complications
Toothache is not life-threatening, but toothache due to tooth decay can get worse if left untreated. In some cases, toothache is a sign of a serious condition that requires immediate medical care. Complications that can occur due to untreated or properly treated toothaches include:
Sinusitis, inflammation of the paranasal air sinuses caused by infection. 

Stroke

, which occurs due to inflammation and infection that can make the blood clot.

Tooth abscess, which occurs due to a buildup of pus that forms in the teeth or gums.

Gingivitis, is gum inflammation that usually occurs due to a layer of plaque or bacteria that builds up on the teeth.

Heart disease

, poor dental health increases the risk of bacterial infection in the bloodstream that can affect the heart valves.

Periodontitis, is a gum infection that damages the soft tissue and bones that support teeth. Periodontitis results from untreated gingivitis.
Examination
The dentist will ask for symptoms and perform a physical examination, as well as perform additional tests if needed. Dental physical examination and additional tests are performed using X-rays to detect tooth decay or other dental problems and are only performed on patients whose teeth are difficult to see directly, especially on the back of the teeth. 
If the dentist cannot find the cause of the toothache, they may refer the patient to another specialist for diagnosis and further treatment.
Healing
Toothache healing and the symptoms that arise due to toothache will depend on the cause of the toothache itself. Healing can be done by medical or non-medical ways, including:
Medical
If a toothache is triggered by tooth decay, the dentist will remove the damage with a drill and fill the space with dental material. The impacted tooth may require surgical removal.
Medicines that can help relieve a toothache for a while, include:
Pain medications: over-the-counter (OTC), such as aspirin, ibuprofen or acetaminophen.

Pain caused by sinus congestion: OTC decongestants, such as pseudoephedrine (Sudafed)

Toothache medications: OTC topicals, such as benzocaine (Anbesol, Orajel).

This drug is a prescription drug (not sold freely) and is not recommended for children under 2 years of age.
Non medical
The initial treatment for pain reduction can be done in several ways and consuming the following natural ingredients, such as:
Chew fresh garlic

Chew fresh guava leaves 

Ice the swollen cheek

Clean and rinse the oral cavity with warm water 

Gargle with salt solution water

Brush your teeth gently to clean the tooth area

Apply clove oil on the aching tooth, or by biting a cotton swab that has been soaked or given clove oil on the sore tooth, or clove oil is used as a mouthwash by mixing a drop of clove oil in a glass of warm water.

Prevention
The best way to prevent toothache is to keep your teeth and gums healthy, namely by:
Routinely check your teeth to the dentist

Using dental floss (

flossing

teeth) every day

Cut back on sugary and fizzy foods and drinks

Keep your heart and lungs healthy, by exercising regularly, not smoking and eating low-fat and high-fiber foods

Brush teeth with the right technique at least 2 times a day (after breakfast and before bed) for 2-3 minutes using fluoridated toothpaste, brush your teeth at least 30 minutes after consuming acidic foods and drinks.

Gargle to rinse the mouth using

mouthwash

after brushing and using floss, in order to make and maintain the freshness of the mouth.
Reference:
SehatQ: Toothache: (

https://www.sehatq.com/penyakit/sakit-gigi

)

Liputan6.com: Diseases that can arise due to cavities, don't underestimate: (

https://hot.liputan6.com/read/4131481/7-penyakit-yang-bisa-timbul-akibat-gigi-berlubang-jangan-sepelekan

)

TanyaPepsodent.com: Proven and Effective Ways to Treat Toothache: (

https://www.tanyapepsodent.com/artikel/plak-pupanukan-gigi/cara-mengobati-sakit-gigi-yang-terbukti-dan-ampuh.html

)